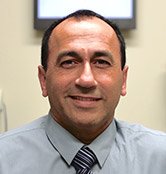 Principal Optometrist
Graham Lakkis graduated with a degree in Optometry from the University of Melbourne in 1988, and was awarded a Commonwealth Postgraduate Research Award for finishing in the top 1% of university graduates Australia-wide. After 2 years of Masters research he established a private optometry clinic in East Keilor in 1991.
Dr Lakkis completed a postgraduate degree in Ocular Therapeutics at the University of Melbourne in 2001 to enhance the management of complex eye disease and eyesurgery.He was awarded fellowship of the Australian College of Optometry in 2012 for his contributions to the profession of Optometry. Currently Dr Lakkis is Senior Fellow in the Department of Optometry at the University of Melbourne, with responsibility for lecturing and clinical teaching in glaucoma and other eye diseases. Dr Lakkis has also lectured at conferences in Australia and overseas on topics such as macular degeneration, complex contact lens fitting, glaucoma, and scanning laser tomography.
Outside of work, Graham is a performance musician and has owner-built his family home and renovated several other houses over the years.
Positions Held:
Senior Fellow, Department of Optometry and Vision Science, University of Melbourne.
Lead Optometrist, University of Melbourne Eyecare Glaucoma Clinic.
Optometry Board of Australia, Scheduled Medicines Advisory Committee.
Secretary, Cornea and Contact Lens Society of Australia (Victorian Branch).
Reviewer of journal articles, Clinical and Experimental Optometry.
Oral examiner, Australian College of Optometry Certificate in Ocular Therapeutics.
Team Optometrist, Essendon Football Club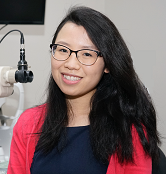 Clinical Optometrist
Diana Nguyen graduated with a Doctor of Optometry degree from the University of Melbourne, with part of her clinical internship training held in Chicago, USA. After practicing in Western Australia, Dr Diana returned home to Melbourne for a position with Lakkis Optometry.
Dr Diana has utilised her clinical skills and therapeutic training to manage and treat eye disease, and has a clinical interest in the control of rapid myopia progression in children.
Diana is fluent in Vietnamese, and in her spare time she enjoys cooking and pilates.
Our Staff
The dedicated and highly trained staff at Lakkis Optometry are always ready to offer assistance with spectacle frame selection, prescription lens design, and to provide information about the different types of contact lenses. We sell only the highest quality eye care products, and our team of highly skilled staff will help you choose the perfect product based on your needs and budget. They can also assist with HiCaps private health insurance claims so that you can immediately receive your insurance rebate.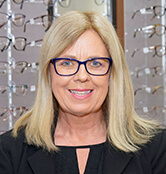 Optical Dispenser
Lynn has extensive experience in optical dispensing gained through 10 years of working in the field. She is happy to offer her expertise in helping patients with their frame and lens selection, as well as performing frame adjustments and repairs. In her free time she enjoys watching live music and traveling with her loved ones.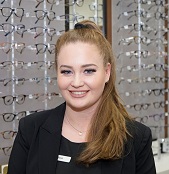 Optical Dispenser
Josie helps select the most current and up to date frames to best suit our patient needs. She orders and manufactures the glasses in our on-site laboratory to the highest possible standards to achieve the best visual outcome. In her free time Josie enjoys catching up on the latest movies and eating out at her favourite restaurants.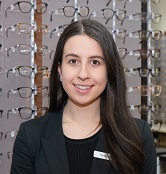 Optical Dispenser
Meagan takes care of our reception desk, submits health insurance claims and assists with frame styling to choose the perfect frame that fits you well. She has also completed a Bachelor of Exercise Science (Clinical Practice). In her free time she enjoys the outdoors and loves to bake for her family and friends.