Corneal Topography
The corneal topographer provides a very accurate map of the surface of the cornea (front of the eyeball) which is used to design contact lenses for keratoconus and Ortho-K, and to determine patient suitability for laser eye surgery.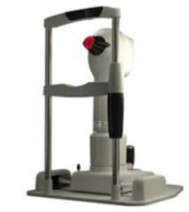 GDx Glaucoma Diagnosis
Zeiss GDx uses a scanning laser polarimiter to assess the nerve fibre layer around the optic nerve head that is damaged in glaucoma patients. It has been shown to detect glaucoma damage several years earlier than other clinical tests.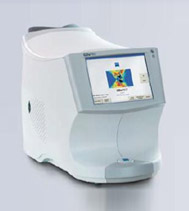 Auto Refraction and Digital Visual Acuity
The autorefractor is able to quickly determine a preliminary prescription lens measurement, which is then fine tuned before prescribing glasses. It greatly speeds up the process of lens selection and makes refraction more pleasant for the patient.
The digital letter chart is accurately calibrated to visual acuity standards, which is needed to assess suitability for occupations such as pilots, police force, commercial drivers etc. It randomises the letter chart to prevent memorisation, and presents different letters and symbols depending on the age of the patients or if English letters are not recognised.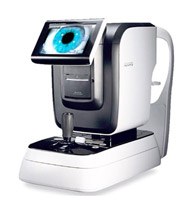 Ultrasound Pachymetry
The pachymeter takes an ultrasonic thickness of the central cornea which can predict the future risk of developing glaucoma, and determines if the cornea is thinning in progressive keratoconus. It is also used to determine patientsuitability for laser vision correctionand the optimal type of laser surgery required.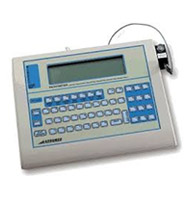 Visual Fields
Lakkis Optometry has the latest Zeiss HFA 3 Visual Field Analyser. Visual field testing is most commonly used to assess vision loss due to glaucoma. It is also used to check for neurological conditions that affect the visual regions of the brain, such as brain tumours, strokes and raised intracranial pressure.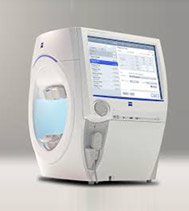 Slit lamp Camera
The instrument takes high resolution images of the outside of the eyeball, which allows the optometrist to document and monitor for any changes in eye pathology. The images are also very useful in allowing patients to see what their eye disease looks like, which aids in a better understanding of their eye condition.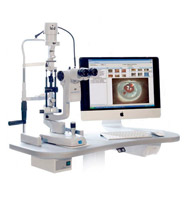 Retinal Camera
The retinal camera takes ultra-high resolution images of the retina using both coloured and autofluorescent light. It is commonly used to document changes to the retina in diabetic eye disease and macular degeneration, as well as imaging the optic nerve head in glaucoma.